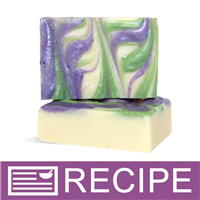 (Enlarge Image)
WARNING: This project and these instructions have been written for someone who has experience making soap and knows the potential dangers due to working with sodium hydroxide. It will not outline safety methods of working with dangerous chemicals, it is simply a soap recipe for advanced soapmakers.
Prepare the lye solution by weighing the water and lye into separate containers. Pour the lye into the water, carefully mix in a well-ventilated area and set aside to cool.
Melt the solid oils (coconut oil and shea butter) either by microwave or stovetop. Melt just until melted and no more.
Add the liquid oils (olive oil, rice bran oil and avocado oil) to melted oils to bring the temperature down. Add the fragrance oil to the oil mixture and stir.
Once the oils and lye have cooled down to under 90°F, pour the lye solution into oils and blend until you reach a light trace.
Pour about 12 oz. of soap each into two separate cups. Color one with lavender pigment and the other with green pigment. Stickblend briefly to get the color dispersed. Don't stickblend long or your soap will setup too fast.
Pour the uncolored soap into the mold. Holding each color up high, rotate drizzling the colored soap into the mold. The higher you hold the pouring container, the deeper it will go into the uncolored soap. End with the pouring container close to the surface of the soap to make color sit on the surface.
Use a spatula to swirl the soap.
Allow your soap to harden overnight and unmold the next day. If the soap is too soft, allow soap to harden for 48 hours.
Cut soap and cure for a minimum of four weeks.
To Use: Lather onto wet skin and rinse with warm water. Avoid contact with eyes.
Ingredient Label:
Olive Oil, Coconut Oil, Water, Sodium Hydroxide, Shea Butter, Avocado Oil, Rice Bran Oil, Fragrance, Ultramarines and Chromium Hydroxide Green