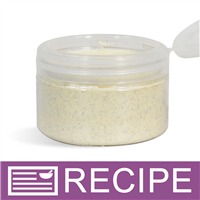 (Enlarge Image)
NOTE: If you are making these products for sale, good manufacturing practices recommend you wear a hairnet, gloves and a mask. We also recommend a clean apron and workspace.
To large heat safe container, add Beeswax, Olive Oil, Castor Oil and Cocoa Butter.
Place on heat source until wax has completely melted.
Add Vitamin E and Cornsilk and stir with wire whisk to incorporate all ingredients. Let cool for 15 minutes.
Add Shea Butter to melted ingredients. Stir to blend until butter has melted. If necessary, place back on heat source until shea butter is completely melted. Product should be fairly thick. If it is not, place in refrigerator until product thickens. Mix with whisk to blend all ingredients well.
Fill each jar to 3.60 oz. by weight. Twist on lid when cooled.
Label product accordingly.
TO USE: Rub small amount onto clean baby's bottom after changing. Do not completely rub into skin but leave on as a thick cream. Note: Product will be hard but will soften quickly when rubbed onto skin.
Ingredient Label:
Shea Butter, Cocoa Butter, Olive Oil, Castor Oil, Beeswax, Cornsilk, Vitamin E.