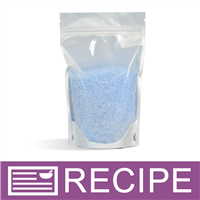 (Enlarge Image)
NOTE: If you are making these products for sale, good manufacturing practices recommend you wear a hairnet, gloves and a mask. We also recommend a clean apron and workspace.
Empty 5 lb. bag of Bath Water Crystals into a large glass bowl.
Add 1.5 oz. Cobalt Beach Glass Fragrance Oil and mix well to completely coat the crystals.
Add 4 tsps. Caribbean Blue Glitter to the salts and mix well to incorporate color well.
Lay the salts out on 3 jelly roll pans and let dry overnight.
Fill each bag with 16 oz. of aroma crystals. If there are any crystals left over, divide them up between the 5 bags.
Label product accordingly.
TO USE: Pour into a bowl and let set out in any smaller room to fragrance the room. Stir crystals once a week. Replace crystals when they dry out.
Ingredient Label:
Sodium Chloride, Fragrance, Glitter.