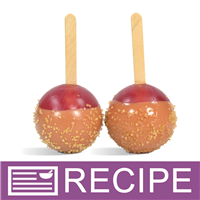 (Enlarge Image)
NOTE: If you are making these products for sale, good manufacturing practices recommend you wear a hairnet, gloves and a mask. We also recommend a clean apron and workspace.
To a microwave-safe measuring cup, add 36 oz. of cut up Clear Soap Base. Heat in microwave for 2 minutes or until soap has melted. Remove and stir.
To plastic beaker, mix 1 oz. of Apple Caramel Crunch Fragrance Oil and 0.5 oz. of Vanilla Color Stabilizer. Allow mixture to sit for 2 minutes then add into melted soap.
Add 15 drops of Apple Red Liquid Dye and 10 drops of Santa Red Liquid Dye. Stir until all color has mixed in well.
Snap the Round Ball Silicone Mold together making sure it is secure. Place on a cookie sheet to protect work area.
Pour some of the soap into the Mix & Pour Funnel Pitcher for ease in pouring.
Once the soap has cooled down to around 130°F, carefully pour soap into each cavity. Pour just to the top of the ball, do not pour the tab at the top of the mold. Spritz well with alcohol as there may be bubbles that will rise up to the top.
Continue pouring the rest of the "apples". Add more soap to the Mix & Pour Funnel as needed. You may need to reheat the soap if it starts to harden. You may need to go back and top off the "apples" as the soap can settle. If this happens, be sure to spritz the top first with alcohol.
When soap starts to thicken up, push a soap pop stick into each soap cavity. If it falls over, wait a few more minutes and then try again.
Soap can be unmolded after about 2-3 hours. Remove the top of the mold, being careful not to pull on the stick. If any soap leaked out on the sides, carefully shave this part off.
To prepare caramel soap, cut up 6 oz. of Ultra White Soap Base and add to a clean Mix and Pour Funnel. Heat in microwave until soap has completely melted.
Add 1/2 of Brown Soap Color Block and 1/4 of Yellow Soap Color Block and stir until color has melted. Heat the soap a little more if color is not completely melted in.
Measure 5 ml of Apple Caramel Crunch Fragrance Oil and 2.5 ml of Vanilla Color Stabilizer and mix together. Allow mixture to sit for 2 minutes then stir into melted soap.
Dunk the apples into the melted "caramel" as high up as desired. Sprinkle caramel with brown sugar crystals and place on wax paper lined cookie sheet to harden.
To package, place one apple into a cello bag and tie with raffia or ribbon of choice.
Label product accordingly. Be sure to add to label "SOAP - DO NOT EAT".
To Use: Remove stick first. Lather onto wet skin and rinse with warm water.
Ingredient Label:
Sorbitol, Propylene Glycol, Sodium Laureth Sulfate, Sodium Stearate, Sodium Myristate, Sodium Cocoyl Isethionate, Fragrance, Titanium Dioxide, Red 40, Red 33, Iron Oxide.