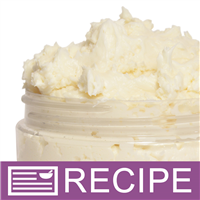 (Enlarge Image)
NOTE: If you are making these products for sale, good manufacturing practices recommend you wear a hairnet, glove and a mask. We also recommend a clean apron and workspace.
Into smaller mixing bowl, add 26 oz. of water and set aside.
To a large microwave-safe mixing bowl, add Stearic Acid, Emulsifying Wax, Meadowfoam Seed Oil and Mineral Oil. Heat in microwave until completely melted.
Add Almond Butter and Palm Butter. Stir until completely melted. If necessary, place in microwave in 15 second spurts to melt any larger pieces.
Place water in microwave for 2 minutes to warm.
In a plastic beaker, mix fragrance oil with vanilla color stabilizer. Let sit for at least 2 minutes.
Slowly pour water into oil/wax mixture. Using a hand mixer or stick blender, begin to blend until lotion starts to thicken.
Add in Vitamin E and fragrance mixture. Continue blending.
Check temperature to be sure it is under 176°F. Add preservative and continue to blend until lotion is thick and creamy.
Allow lotion to cool. You may need to continue to whip the lotion if it seems a bit runny. Place saran wrap over the bowl to allow cooling for 1-2 hours. Lotion will fluff up!
Using a spatula, fill each jar with approximately 5.5 oz. by weight. Apply lids to jars.
Label product accordingly.
NOTE: The original recipe contained Brazil Nut Butter. Since the recipe and video were made, this product has been discontinued. The Almond Butter Blend has been substituted for the Brazil Nut Butter.
To Use:
Apply to skin as often as desired.
Ingredient Label:
Water, Almond Butter, Palm Butter, Emulsifying Wax, Stearic Acid, Meadowfoam Seed Oil, Mineral Oil, Fragrance, Vitamin E, Phenoxyethanol, Caprylyl Glycol, Sorbic Acid.