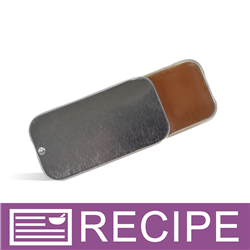 (Enlarge Image)
NOTE: If you are making these products for sale, good manufacturing practices recommend you wear a hairnet, gloves and a mask. We also recommend a clean apron and workspace.
Using a double boiler or metal pan, heat beeswax and olive oil on low heat until wax has completely melted.
Turn off heat source. Add cocoa and mango butter and let naturally melt from heat of melted wax/oil. Stir when completely melted
Add flavor, essential oil and vitamin E to lip gloss and gently stir.
Add mica powder until desired shade is achieved. Stir to incorporate.
Pour into lip slide tins. Let cool.
Once completely cooled, place lid on tins. If desired, apply 40 x 40 shrink wrap band around lip slide tin using a hair dryer.
Label product accordingly.
To Use: Apply to lips as needed.
Ingredient Label:
Cocoa Butter, Mango Butter, Beeswax, Olive Oil, Flavor, Peppermint Essential Oil, Vitamin E, Mica, Titanium Dioxide.