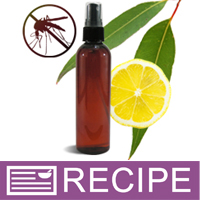 (Enlarge Image)
NOTE: If you are making these products for sale, good manufacturing practices recommend you wear a hairnet, gloves and a mask. We also recommend a clean apron and workspace.
To glass measuring cup, add 16 oz. of soybean oil.
Add 1.6 oz. of Lemon Eucalyptus essential oil. This is at 10% which is what is recommended to be effective as a bug spray. If you choose, you can add less of this ingredient.
Mix well and pour into bottles. Trim dip tube to fit length of bottle.
Label product accordingly.
NOTE: Should not be used on children under 3 years of age. Do not label as a bug repellent because it will then need to be approved by the EPA.
To Use: Spray on skin or clothing before going outdoors.
Ingredient Label:
Soybean Oil, Eucalyptus Oil.