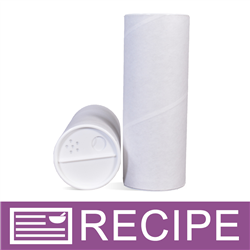 (Enlarge Image)
NOTE: If you are making these products for sale, good manufacturing practices recommend you wear a hairnet, gloves and a mask. We also recommend a clean apron, workspace and sanitized equipment.
To large mixing bowl, add cornstarch and kaolin clay*. Blend with wire whisk until well incorporated.
To small bowl add tapioca starch. Slowly add fragrance** oil and mix well. This may cause the powder to clump. Add this to large mixing bowl and blend well. Using a powder sifter, sift the mixture to create a fine powder.
Using a funnel, fill each shaker with 4 oz. of product. Tap shaker to pack down powder. Firmly apply plastic bottom to shaker base.
Label product accordingly.
*For light colored hair. Use Slate Kaolin Clay for darker colored hair.
To Use: Shake over hair, working through to scalp to absorb oils. Brush out.
**Wholesale Supplies Plus is not affiliated or associated with Aveda.
Ingredient Label:
Cornstarch, Kaolin Clay, Tapioca Starch, Colloidal Oatmeal, Fragrance.