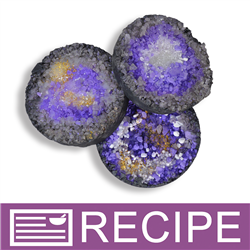 (Enlarge Image)
NOTE: If you are making these products for sale, good manufacturing practices recommend you wear a hairnet, gloves and a mask. We also recommend a clean apron and workspace.
To measuring cup, add 1 oz. cocoa butter and 1 oz. tucuma butter and heat in microwave until melted. BE CAREFUL - CUP WILL BE VERY HOT!
Add 1/2 tablespoon Bubble Cake Hardener and whisk until blended.
Add 3 ml Energy fragrance oil and 0.30 oz. Polysorbate 80. Stir and set aside.
To 3 small bowls, add 1 oz. of epsom salts to each. Add 1-2 micro scoops of a different purple mica to each bowl. Stir to mix well.
To a fourth bowl, add 1 oz. European Salts and leave white.
Place one round guest silicone mold on a jelly roll pan.
Using a plastic spoon, add colored salts to each cavity of the mold, arranging in a single layer. Use the spoon end to rearrange salts as desired. The white euro salts can be used to fill in areas or to add different sized salts to your bath melt. Fill all six cavities.
Whisk melted butters then carefully pour over the top filling to just half way. Divide any remaining butter between the six cavities.
Place second mold on jelly roll pan.
Repeat steps1-3. Add more salts and color to bowls, if necessary.
Fill second mold in the same manner with colored salts, then pour melted butter over them.
Place jelly roll pan in freezer for about 1-2 hours. Remove and let sit at room temperature for 20 minutes. If unmolded too soon, the melts will break into pieces.
Turn molds over onto wax paper covered area and gently remove from molds.
If any salts remain in mold, simply melt a small amount of cocoa butter, place salts on top of bath melt and pour small amount of cocoa butter on top to set in place.
Add one teaspoon of isopropyl alcohol to two small bowls. Add 2-3 micro scoops of rose gold mica to one and black knight mica to other.
Using a child's paintbrush, paint the sides of each bath melt with these colors as desired. Add more mica powder and alcohol if needed. Let dry.
Package melts as desired.
To Use: Add one melt to tub of warm water and soak.
Ingredient Label:
Magnesium Sulfate, Cocoa Butter, Tucuma Butter, Spa Salts, Polysorbate 80, Fragrance, Mica, Titanium Dioxide, Manganese Violet, Tin Oxide, Fluorphlogopite, Ultramarines, Iron Oxide.