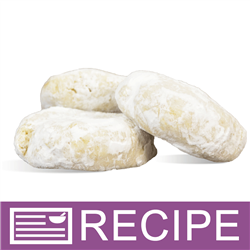 (Enlarge Image)
NOTE: If you are making these products for sale, good manufacturing practices recommend you wear a hairnet, gloves and a mask. We also recommend a clean apron and workspace.
This recipe is made in two batches to make all 20-24 bath cookies.
Using a food processor, grind up oatmeal until powdery. One cup equals 3.5 oz. by weight. Place in large mixing bowl.
Add 4 oz. baking soda and 4 oz. cornstarch. Mix with fork or wire whisk. Break up any clumps there may be.
In small bowl, place 1 oz. of mango butter. Heat on low in microwave until melted.
Add melted mango butter to powder mixture and 1.20 oz. grape seed oil. Gently mix in with fork or whisk.
Add 0.20 oz. fragrance oil and 5 ml of Vitamin E. Continue mixing until ingredients are completely blended in.
Take a small amount of mixture in your gloved hands and roll into a 1.5" ball. Place on cookie sheet lined with waxed paper. Flatten slightly. Continue until all mixture is used. Set aside until completely set up, or about 2 hours.
Once bath cookies have hardened, gently roll cookie in milk powder.
Repeat above steps to make remaining bath cookies. Recipe should yield approximately 20-24 bath cookies depending on size.
To Use: Crumble 1-2 bath cookies into tub under running water.
WARNING: Be sure to add a warning to your label that this will make your tub slippery. Be sure to use a rubber bath mat on bottom of the tub.
Ingredient Label:
Oats, Baking Soda, Cornstarch, Grape Seed Oil, Mango Butter, Fragrance, Vitamin E, Coconut Milk.