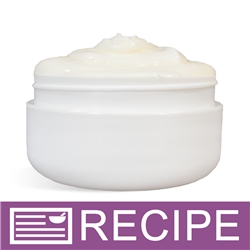 (Enlarge Image)
NOTE: If you are making these products for sale, good manufacturing practices recommend you wear a hairnet, gloves and a mask. We also recommend a clean apron and workspace.
To microwave-safe measuring cup, add water. Set aside.
To second microwave-safe measuring cup, add Meadowfoam Seed Oil, Rice Bran Oil, Emulsifying Wax and Cetyl Alcohol. Heat in microwave until waxes have melted.
Heat water in microwave for 2 minutes. Add Bee Pollen and Manuka Honey Extracts and stir.
Slowly pour water mixture into melted wax mixture and begin to stick blend.
Continue until all ingredients are incorporated and lotion begins to thicken.
In a separate bowl, mix Honeyquat, Vitamin E and fragrance. Add in Potassium Sorbate powder and mix well with wire whisk.
Add mixture to lotion and stir until all ingredients are mixed well.
Fill jars to approximately 1.90 oz. each. Let cool completely then apply lids.
Label product accordingly.
To Use: Gently apply to face and neck area as needed.
Ingredient Label:
Water, Meadowfoam Seed Oil, Rice Bran Oil, Cetyl Alcohol, Glycerin, Bee Pollen Extract, Honey Extract, Sodium Benzoate, Citric Acid, Emulsifying Wax, Honeyquat, Vitamin E, Potassium Sorbate, Fragrance.