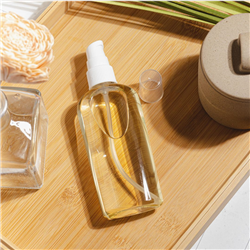 (Enlarge Image)
NOTE: If you are making these products for sale, good manufacturing practices recommend you wear a hairnet, gloves and a mask. We also recommend a clean apron and workspace.
Into large measuring cup, add Mineral oil**, Sunflower oil, Macadamia nut oil, Walnut oil, Evening Primrose, Safflower oil and Isopropyl Myristate.
Add Madagascar Vanilla Fragrance Oil and whisk all ingredients together.
Fill all 6 bottles to 4 oz. by weight.
Trim the dip tubes on the treatment pumps to fit the bottles and apply.
Label product accordingly.
To Use: Massage into skin, reapplying as necessary.
* Wholesale Supplies Plus is not affiliated or associated with Bath & Body Works.
**If you do not wish to use Mineral Oil in this recipe, you can substitute Mid Chain Triglycerides (MCT Liquid) for the Mineral Oil.
Ingredient Label:
Mineral Oil, Sunflower Oil, Macadamia Nut Oil, Walnut Oil, Evening Primrose Oil, Safflower Oil, Isopropyl Myristate, Fragrance.