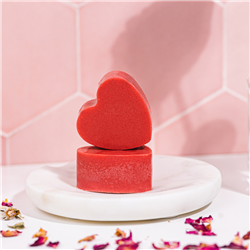 (Enlarge Image)
NOTE: If you are making these products for sale, good manufacturing practices recommend you wear a hairnet, gloves and a mask. We also recommend a clean apron and workspace.
To make entire 48 bath melts, recipe will need to be repeated four times. Place silicone mold on cookie sheet to keep sturdy.
To a glass bowl, add 1 cup of Baking Soda (8 oz.) and 1/2 cup (4 oz.) of Citric Acid. Mix with a wire whisk and break up any clumps with a fork or use a sifter.
Add 1 teaspoon White Kaolin Clay and 1/8 teaspoon of the Bath Powder Red color. Mix well until ingredients are well incorporated. This powder dye may speckle a bit. CAUTION: Too much color can stain bathtub so we recommend using the specified amount. Set powder aside.
To microwave-safe mixing bowl, add 4 oz. Tucuma Butter. Heat in microwave for 1 minute. Once melted, add 4 oz. of Avocado Butter and let the heat from the first butter melt the Avocado Butter. If necessary, heat for additional 20 seconds.
Add 3 ml of fragrance to the melted butters.
Before adding powder mixture to butters, drop a teaspoon of powder mixture into the butters. If it starts to fizz, the butters are too hot. Let cool a little more before adding the entire mixture.
Add powders to melted butters and quickly mix with a wire whisk. Immediately start to pour into mold. After filling 3 or 4 cavities, stir with whisk to keep mixture blended. Continue in this manner until all the cavities are filled.
Place cookie sheet with mold into freezer for about 15 minutes. This will prevent any fizzing that may occur.
Remove bath melts from mold and place on waxed paper. If left in freezer too long, hearts will sweat. Leave out overnight and they will be fine the next day.
REPEAT Steps 2-11 to make next batch, if desired.
Packaging Suggestions: Place 3 bath melts in clear cello bag. Fold any excess under bath melts and place in white window box.
Label product accordingly. Be sure to add warning to label that product will make tub slippery.
To Use: Place 1-2 melts under running water. Be sure to use a bathtub mat as this product can make tub slippery.
NOTE: This product will be slightly soft. The Tucuma Butter combined with the Avocado Butter helps keep the product harder. If making this during the summer months, a butter with a higher melt point, such as cocoa butter, can be a good substitute for the butters.
Ingredient Label:
Baking Soda, Citric Acid, Tucuma Butter, Avocado Butter, Kaolin, Fragrance, Red 40 Lake.