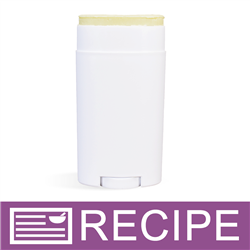 (Enlarge Image)
NOTE: If you are making these products for sale, good manufacturing practices recommend you wear a hairnet, gloves and a mask. We also recommend a clean apron, workspace and sanitized equipment.
To a double boiler or heat-safe pan, add Coconut 76 Oil, MCT, Shea Butter, Hemp Seed, Jojoba Oil and Candelilla Wax. Heat over low heat until completely melted. Remove pan from heat but keep heat on low on stovetop.
Sift the Magnesium Hydroxide and Arrowroot Powder and add to a mixing bowl. This will make the powders easier to blend into the liquids.
Slowly whisk the powders into the oil/wax mixture until blended. Place pan back over heat source and let heat warm up the mixture, stirring occasionally until smooth and creamy.
Mix in Vitamin E and Rose & Black Pepper* Fragrance Oil.
Pour product into 6 deodorant tubes. If mixture starts to thicken, place over heat source to liquify enough to finish pouring. Save any remaining product. This can be remelted and used to fill in any sink holes that may appear.
Let completely harden then place top on tubes.
Label product accordingly.
To Use: Apply to underarms as needed.
** Wholesale Supplies Plus is not affiliated or associated with Schmidt's.
Ingredient Label:
Magnesium Hydroxide, Coconut Oil, Candelilla Wax, Arrowroot Powder, Medium Chain Triglycerides, Shea Butter, Hemp Seed Oil, Jojoda Seed Oil, Vitamin E, Fragrance.