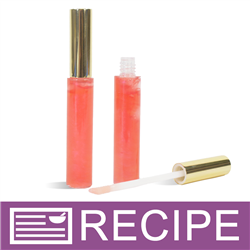 (Enlarge Image)
NOTE: If you are making these products for sale, good manufacturing practices recommend you wear a hairnet, gloves and a mask. We also recommend a clean apron, workspace and sanitized equipment.
Add 4 oz. Versagel to a microwave-safe container and heat until temperature of base reaches 160°F. We recommend heating in 4 minute increments. Remove, stir and continue to heat. This can take up to 10 minutes.
Add 1 oz. MCT to a small microwave-safe container and heat in microwave for 1 minute. Slowly stir into Versagel until well blended.
In a small container, mix flavor oil with mica and blend well.
Add to gloss base and mix with spatula until blended.
To fill bottles, take a plastic dropper and cut off the top at the 1ml mark (2 inches from tip). Next, using a small piping bag or plastic food bag, cut a small tip off of one corner then insert the dropper through the hole. The dropper should fit snugly without pushing completely out of the hole. If necessary, make the hole slightly larger to fit the dropper. Add lip gloss to bag then insert plastic dropper into plastic bottle. Fill with lip gloss to just under the shoulder of bottle, leaving room to insert wand. Fill all bottles and insert applicator wand
Label product accordingly.
To Use: Apply lip gloss to lips as desired.
Ingredient Label:
Hydrogenated Polyisobutene (and) Ethylene/Propylene/Styrene Copolymer (and) Butylene/Ethylene/Styrene Copolymer, Caprylic/Capric Triglycerides, Flavor, Mica, Titanium Dioxide, Iron Oxide.