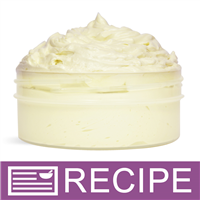 (Enlarge Image)
NOTE: If you are making these products for sale, good manufacturing practices recommend you wear a hairnet, gloves and a mask. We also recommend a clean apron and workspace.
Into a large glass bowl, add Horsetail Butter. Using a hand mixer, whip until butter is smooth.
Add Aloe Vera Oil and Walnut Oil, blending with hand mixer.
Stir in 3 Tablespoons of Tapioca Starch-Pure and stir into butter with a spoon.
Using mixer, blend ingredients into whipped butter.
Add fragrance Oil and Vitamin E and stir in.
With mixer, blend ingredients and continue mixing until fluffy, about 10-15 minutes on high.
Fill jars to 4.5 oz. by weight.
Label product accordingly.
To Use: Apply to skin as often as desired.
Ingredient Label:
Horsetail Butter, Tapioca Starch, Walnut Oil, Fragrance, Aloe Vera Oil, Vitamin E.