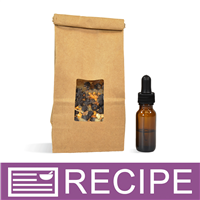 (Enlarge Image)
NOTE: If you are making these products for sale, good manufacturing practices recommend you wear a hairnet, gloves and a mask. We also recommend a clean apron and workspace.
Potpourri:
Measure botanicals and place in mixing bowl.
Using a spoon or gloved hands, gently mix until all ingredients are well blended.
Using a measuring cup, fill each tin tie bag to 5.60 oz. by weight.
Roll tin tie down and clasp bag closed.
Label accordingly.
Refresher Oil:
Mix all essential oils together.
Fill each bottle to 0.35 oz. by weight. Any remaining product can be split evenly between the bottles.
Twist droppers on bottles.
Label accordingly.
TO USE:
Empty contents into bowl or jar. Add 1-2 droppers of essential oil blend and stir or shake to coat. Place in decorative bowl or container to fragrance desired area.
11/2019 - White Willow Bark removed from recipe. Product was discontinued.
Ingredient Label:
Juniper Berries, Orange Peel, Bergamot Essential Oil, Sweet Orange Essential Oil, Cedarwood Essential Oil.