Crafter's Choice™ Laurel Berry Oil
---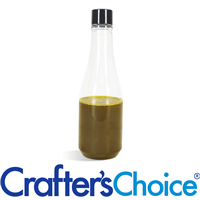 Additional Information
Laurel Berry Oil is a base oil mainly used in Aleppo Soap making, but can be incorporated into many other formulas to take advantage of the wide range of benefits it is thought to have. This is not the essential oil. It is a green to brown thick liquid with slight sediment which may settle. Laurel Berry Oil has a natural earthy scent.



Country Of Origin:

Turkey


Directions & Ingredients
International Nomenclature of Cosmetic Ingredients (INCI):
Laurus Nobilis (Laurel) Oil

Common Name Ingredient Listing (FDA Approved):
Laurel Berry Oil

Directions:

Questions & Answers (11)
Question + Answer. Here you can ask or answer questions All questions are queued and answered quickly during business hrs. You can also answer questions posted by other customers if you have valuable information.
CustomerReviews (4)
Michael • New York
Date Submitted: 09/02/2020
I Recommend This Product!
"Smells soooooo good!"
COMMENTS: Being part Syrian, I wanted to try and make Aleppo soap. I have yet to actually make it, but the laurel berry oil smells like a better version of pine tar to me. It smelled so good that I had to buy more.
PRODUCT USED IN: Soap - Cold Process

| | | |
| --- | --- | --- |
| THINGS I LIKE | | THINGS I'D LIKE TO CHANGE |
| • Smell | | |

Danielle • Texas
Date Submitted: 06/15/2020
I Recommend This Product!
"Good for a very specific thing"
COMMENTS: Okay, I haven't yet used this for its intended use (gonna try an aleppo soap recipe), but after what just happened, I probably will never, and I will never run out of this. It's summer in Texas, which means my yard is full of things that want to kill me and also leave itchy bites--fleas, tiger mosquitos, and horseflies. They bite my ankles and get me through my pants, and every night, I lay in bed and scratch myself to death. I just remembered that I've got a pound of this stuff I haven't yet made into soap and have read that it's good for itching. I got up and dabbed it on my hands and then rubbed it into my ankles, calves, and behind the knees. It's a very dry-feeling oil, no greasy feel whatsoever. I rubbed more in, still no greasy feel. All this is secondary--itch VANISHED. POOF. Like someone turned a fire extinguisher on my legs. I rubbed some on my face, cause hey, let's go nuts, why not? no grease and everything feels crazy soft. It stinks, which I knew when I bought it, all laurel oil stinks. This one smells like Port-a-pit chicken. I don't care, I'll just be a little hungry, and otherwise sleep like a baby who is not clawing at bug bites. I'm not putting this in soap. Why waste it? It's going into a lotion, and so be it if I smell like smoked chicken. Life is choices, and smoked chicken is delicious, and I choose not scratching myself awake at 2 am and smelling like smoked chicken.
PRODUCT USED IN: Lotions, Creams & Butters

THINGS I LIKE
THINGS I'D LIKE TO CHANGE
• Not staying awake all night scratching
• Non greasy
• Absorbs instantly

• Smells like smoked chicken


Richard • Pennsylvania
Date Submitted: 11/27/2019
I Recommend This Product!
"Great Addition"
COMMENTS: Used in an Aleppo style castile CP soap. The smell is very earthy and woodsy and creates a green creamy bar of soap. The odor mellows out with time. I also added to a charcoal face bar. Will definitely order again.
PRODUCT USED IN: Soap - Cold Process

| | | |
| --- | --- | --- |
| THINGS I LIKE | | THINGS I'D LIKE TO CHANGE |
| • Earthy Smell | | |

Vicky • West Virginia
Date Submitted: 11/09/2019
I Recommend This Product!
"Love this"
COMMENTS: I've been eyeballing this oil for awhile. I wanted to make an Aleppo inspired soap for years, but I couldn't bring myself to simply because of the price. I am so glad I bit the bullet and purchased this. I did make soap, but not the traditional bar. It turned out fantastic. I make a liquid soap paste, but I leave it undiluted. Anybody that makes liquid soap knows blending oils and lye to trace can take a very long time compared to bar soap. Adding this to olive pomace did not seems to speed trace at all. The color is a deep green which complements the fragrance. The scent is different. I smell pine, my daughter smells faint ginger. I just know it has done amazing things for our problem skin. I know this is one oil I will never be without.
PRODUCT USED IN: Soap - Cold Process, Liquid Soap & Washes