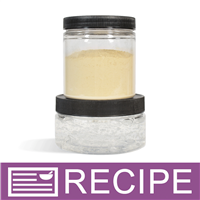 (Enlarge Image)
NOTE: If you are making these products for sale, good manufacturing practices recommend you wear a hairnet, gloves and a mask. We also recommend a clean apron and workspace.
In a mixing bowl, combine aloe gel, caffeine extract and carob extract until fully incorporated. Set aside.
In a separate mixing container, combine clay and carrot powder until well combined.
Package the wet phase of recipe into 8 oz. heavy wall jars. Apply lids.
Package the dry mixture into 8 oz. basic jars. Apply lids. The dry mixture is actually 4 oz. by weight but due to the volume, is packaged in a 8 ounce jar.
Package as desired.
Label product accordingly. (Print Labels Here)
To Use: Combine desired portion of wet phase with desired portion of dry. When fully combined, apply to clean, damp face and allow to air dry. When dry, remove with a warm damp washcloth and moisturize as needed.
Ingredient Label:
WET INGREDIENTS: Water, Aloe Barbadensis Leaf Juice, Glycerin, Carbomer, Triethanolamine, Caffeine Extract, Carob Extract, Iodopropynyl Butylcarbamate, Diazolidinyl Urea. DRY: Kaolin Clay, Carrot Powder.