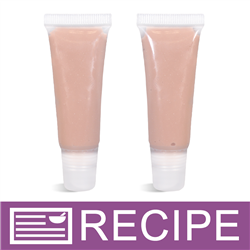 (Enlarge Image)
NOTE: If you are making these products for sale, good manufacturing practices recommend you wear a hairnet, gloves and a mask. We also recommend a clean apron, workspace and sanitized equipment.
Empty 2 ounces of Versagel into a microwave safe container.
Add .95 ounce MCT to the Versagel and stir well.
Heat Versagel mixture in the microwave for 30 second intervals for 1 minute. Stir until the Versagel and oil are completely incorporated.
In a small bowl add 10 drops of EZ color Matte White. Starting with the EZ Color Matte Brown, add 1 drop to the white and stir well. Add More drops unitl you get the desired color you are looking for.
To make a pinker nude use 1 drop of EZ Color Matte Americana Red with the Matte White.
To make something in between, use 1 drop of red and 1 drop of brown along with the white for a medium hued nude.
Add color to versagel mixture and stir well. Flavor or Essential oils at the proper amount can also be added now.
Using a spatula, fill the syringe with the lip gloss mixture.
Place the syringe tip at the bottom of the lip gloss tube.
Press slowly on the plunger to fill the lip tube.
Place the wiper on the end and cap.
Label accordingly.
Ingredient Label:
Hydrogenated Polyisobutene (and) Ethylene/Propylene/Styrene Copolymer (and) Butylene/Ethylene/Styrene Copolymer, Castor Oil, Titanium Dioxide, Iron Oxides, Mica, Titanium Dioxide, Iron Oxide