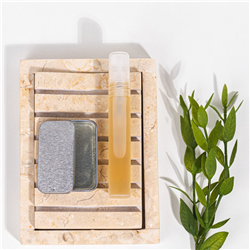 (Enlarge Image)
NOTE: If you are making these products for sale, good manufacturing practices recommend you wear a hairnet, gloves and a mask. We also recommend a clean apron, workspace and sanitized equipment.
Brow Soap:
Chop soap into small cubes and place in a microwave safe dish.
Heat soap in the microwave for 20 -30 seconds.
Stir in glycerin.
Remove cover of lip slides and pour 8-9 grams into cavity.
Let cool and harden and replace lip slide top.
Label accordingly.
To Use: Wet your brush with water and rub it over the surface of the soap, then brush through your brows upwards until your brows are fluffy, full .
Face Mist:
On a scale, place a beaker and measure in rose water hydrosol.
Pour lavender extract into hydrosol and stir.
Pour mixture into frosted sprayer and cap.
Label accordingly.
To Use: Mist over face to refresh and soothe skin any time of day.
Ingredient Label:
Brow Soap:Sorbitol, Sodium Cocoate, Propylene Glycol, Sodium Stearate, Glycerin, Aloe Barbadensis (Aloe Vera) Leaf Juice, Olea (Olive) Europaea Fruit Oil, Yellow 5, Green 5. Face Mist: Rose Hydrosol, Glycerin, Water, Lavender Extract.