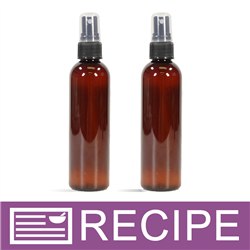 (Enlarge Image)
NOTE: If you are making these products for sale, good manufacturing practices recommend you wear a hairnet, gloves and a mask. We also recommend a clean apron and workspace.
To funnel pitcher, add water and chamomile hydrosol and stir.
Add Lavender EO, polysorbate 20 and preservative and stir.
Fill bottles.
Cut dip tubes on sprayer tops to fit bottles and screw into place.
Label product accordingly.
To Use: Shake, then spray lightly over bed, pillow or blanket area where dog sleeps. DO NOT SPRAY DIRECTLY ON YOUR DOG OR NEAR THE FACE.
DO NOT USE ON CATS! MOST ESSENTIAL OILS ARE TOXIC TO FELINES.
Ingredient Label:
Water, Chamomile Water, Lavender Essential Oil, Polysorbate 20, Propylene Glycol, Diazolidinyl Urea, Methylparaben, Propylparaben