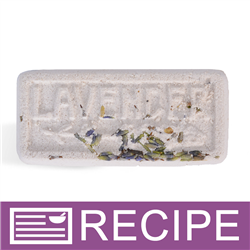 (Enlarge Image)
NOTE: If you are making these products for sale, good manufacturing practices recommend you wear a hairnet, gloves and a mask. We also recommend a clean apron and workspace.
Add baking soda, citric acid and kaolin clay to bowl. Using a wire whisk, stir dry ingredients breaking up any clumps.
Sprinkle lavender buds in the cavity of each mold.
Drizzle Chamomile & Lavender EO & FO Blend onto powders and mix.
Drizzle lavender hydrosol and immediately stir. (Mixture should hold together when squeezed.)
Place plastic molds onto jelly roll pans. Pack each cavity tightly with the bath fizzy mixture.
Let molds sit for at least 24 hours to dry. Carefully pop out of mold.
Package as desired and label accordingly.
To Use: Place shower steamer out of direct spray of the showerhead. Spray with water to release the scent.
Ingredient Label:
Baking Soda, Citric Acid, Kaolin Clay, Lavender Hydrosol, Fragrance.