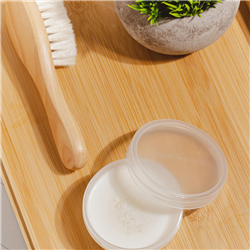 (Enlarge Image)
Combine Sunflower Oil, Cetyl Alcohol Flakes, Isopropyl Myristate, Castor Oil, Emulsifying Wax, Polysorbate 80, and Kaolin Clay in a microwave safe container.
Microwave in 30 second increments, stirring between bursts until wax/flakes are completely melted.
Stir in Vitamin E.
Let cool for about 10 minutes, gently stirring constantly until mixture starts to thicken.
Once thickened, pour into containers. Stir between pours to ensure Kaolin Clay remains fully incorporated.
Refrigerate for 5-10 minutes.
Remove from refrigerator and let fully cool/solidify for about 20-30 minutes (do not cap until fully cooled).
Cap & label accordingly.
To Use: Massage onto a dry face. Rinse gently with warm water.
Ingredient Label:
Sunflower Oil, Cetyl Alcohol, Isopropyl Myristate, Castor Oil, Emulsifying Wax, Polysorbate 80, Kaolin Clay, Vitamin E