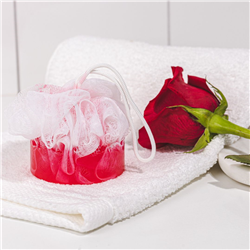 (Enlarge Image)
NOTE: If you are making these products for sale, good manufacturing practices recommend you wear a hairnet, gloves and a mask. We also recommend a clean apron and workspace.
To microwave-safe measuring cup, add clear soap that has been cut into small chunks. Heat in microwave until soap has completely melted.
Add 1/8 of the soap color bar. Stir into hot soap until it is completely melted. If necessary, place briefly in microwave to melt.
Add fragrance oil and mix to incorporate.
Place silicone mold on a cookie sheet. Insert one puff into each cavity, being sure that the rope is centered and sticking out of the top.
For ease in pouring, add melted soap to a funnel pitcher. Carefully and slowly pour the soap into a cavity with the end of funnel pitcher pushed into the middle of the puff. Pouring slowly will allow the puff to soak up the soap. If poured too fast, it will overflow. Pour 5 ounces or until you see the colored soap fill into the rounded top of the mold.
Repeat until all cavities are filled. Let soap completely set up.
Remove from mold and package as desired. We chose to place one soap puff into a cello bag and tie with ribbon. The bottom can also be wrapped in plastic wrap before placing into bag.
Label product accordingly.
To Use: Wet puff/soap and lather onto skin. Rinse with warm water.
Ingredient Label:
Sorbitol, Coconut Oil, Propylene Glycol, Stearic Acid, Water, Sodium Hydroxide, Glycerin, Fragrance, Sodium Cocoate, Sodium Stearate, Fluorphlogopite, Titanium Dioxide, Tin Dioxide, Iron Oxide