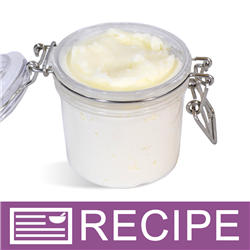 (Enlarge Image)
NOTE: If you are making these products for sale, good manufacturing practices recommend you wear a hairnet, gloves and a mask. We also recommend a clean apron, workspace and sanitized equipment.
In a microwave-safe bowl, add Sweet Almond Oil , Cocoa Butter, Emulsifying Wax, Cetyl Alcohol Flakes, Castor Oil, and Macadamia Nut Oil.
Heat in microwave in 30 second bursts until wax and butters have completely melted.
Place Panthenol in bowl and grind up with a spoon or pestle and mortar to remove any clumps.
Add water to microwave-safe container and heat for 1 minute.
Stir panthenol powder into warm water to dissolve. Powder will not be completely dissolved.
Pour water into melted oils/wax and stir. Then, using a stick blender or hand mixer, blend until well incorporated.
Let mixture cool down to around 125°F, then mix in Honeyquat, ROE, fragrance and preservative.
Mix well.
Let sit until completely cool and product has thickened.
Spoon into jars and apply lids.
Label product accordingly.
To Use: Apply to wet or dry hair.
Ingredient Label:
Sweet Almond Oil, Water, Cocoa Butter, Emulsifying Wax, Cetyl Alcohol, Panthenol, Honeyquat, Fragrance, Phenoxyethanol, Caprylyl Glycol, Castor Oil, Macadamia Nut Oil, Rosemary Oleoresin Extract.