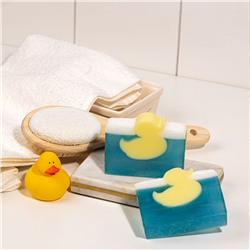 (Enlarge Image)
NOTE: If you are making these products for sale, good manufacturing practices recommend you wear a hairnet, gloves and a mask. We also recommend a clean apron and workspace.
Ensure the duck column mold is securely closed. Add a large binder clip to each side if you are concerned with the mold coming apart. Place on jelly roll pan to catch any spills.
To one Mix & Pour Funnel Pitcher, add 14.5 oz. of White Soap. Melt in microwave.
In a small bowl add 2 Tbsps of melted white soap add 2 scoops of yellow baby duck mica powder and 2 scoops of neon electric slide powder and stir well.
Add color mix to the white soap and stir well.
Add frgarance to the soap and stir. Pour soap into mold and spritz with alcohol. Set aside to harden.
To a large glass measuring cup, add 30 oz. clear soap to bowl. Melt in microwave.
To melted clear soap, add (4) 0.15 ml scoops Caribbean Sea Blue Mica and mix well.
Add 1 oz. Melon Ball Fragrance Oil to soap and mix well.
Remove cooled Duck Soap from column mold. Trim sides of any excess soap.
Cool green soap to 125° F.
Pour abour 2/3 of the blue soap into the loaf mold, spritz with alcohol and let harden.
Remelt remaining blue soap, when it is under 130 degrees, spritz soap in the mold and pour in the last of the blue soap. Spritz the duck embed with alcohol and place in the blue soap.
Let harden.
Place 4 oz of cut up white soap in a medium glass bowl and heat in the microwave until melted.
Using a hand mixure whip up the soap until foamy .
Spritz duck and top of soap with alcohol and pour foamy white soap around the duck. Sprinkle with glitter.
Let cool.
Once soap has hardened, remove from mold and slice into 8 bars. Wrap in airtight packaging.
Label product accordingly.
Ingredient Label:
Sorbitol, Propylene Glycol, Sodium Laureth Sulfate, Sodium Stearate, Sodium Laurate, Glycerin, Water, Titanium Dioxide, Frgarance, Mica,Tin Dioxide, Iron Oxide, Polyurethane-11, Yellow , Ultramarine Blue, Glitter.