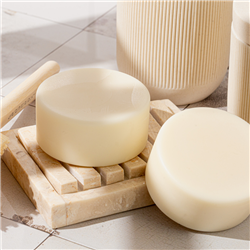 (Enlarge Image)
Combine Mango Butter, Avocado Oil, BTMS 50, Cetyl Alcohol, and Stearic Acid in a microwave or heat-safe container. Microwave at reduced power or double boil until butter and waxes are completely melted.
Combine Panthenol, Xanthan Gum, and Glycerin in a separate container and mix to form a paste.
Once butter/waxes are completely melted, remove from heat. Add Panthenol/Xanthan/Glycerin mixture and stir to combine. Ensure there are no lumps.
Add Fragrance and Vitamin E and stir.
Allow mixture to cool below 176° F then add Preservative. Stir well.
Pour into the mold, filling cavities to the top.
Allow bars to completely harden. Place mold in refrigerator to speed up this process.
Once hard, unmold and set on a paper towel. Let set overnight to harden further.
Package as desired.
Label accordingly.
To Use:
Use on freshly shampooed, damp (not soaking) hair. Lather between hands and apply to hair in sections, working from end to root. For a thicker, creamer consistency, apply with less water. For a lighter conditioner, add more or apply to very wet hair. Let sit for 3-5 minutes, then rinse thoroughly with warm water. Allow bar to dry out between uses by storing on a soap dish or out of the shower.
Ingredient Label:
Behentrimonium Methosulfate (and) Cetyl Alcohol (and) Butylene Glycol, Mangifera Indica (Mango) Seed Butter, Cetyl Alcohol, Persea Gratissima (Avocado) Oil, Glycerin, Stearic Acid, Panthenol, Xanthan Gum, Fragrance, Phenoxyethanol, Caprylyl Glycol, Tocopherol