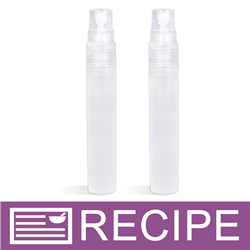 (Enlarge Image)
NOTE: If you are making these products for sale, good manufacturing practices recommend you wear a hairnet, gloves and a mask. We also recommend a clean apron, workspace and sanitized equipment.
Combine rose water hydrosol and the preservative in measuring cup.
Combine polysorbate 20, Tea Tree Essential Oil and fragrance oil in plastic beaker and mix. Add to hydrosol mixture and mix well. Let mixture sit for 10 minutes to solubilize completely.
Fill each bottle to 0.30 oz. by weight. (For easier filling, use plastic beaker to fill.)
Twist on tops.
Label accordingly.
To Use: Spritz the outside of the face mask and let dry for a couple of minutes.
Fragrance may separate from the hydrosol, shake well before using.
Feel free to use any fragrances or essential oils you like, Tea Tree Essential Oil is thought to be an antibacterial and eliminate odors, so it is included in this recipe.
Ingredient Label:
Rose Hydrosol, Polysorbate 20, Tea Tree Essential Oil, Fragrance, Phenoxyethanol, Caprylyl Glycol, Sorbic Acid.