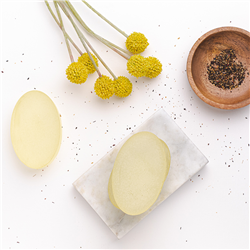 (Enlarge Image)
NOTE: If you are making these products for sale, good manufacturing practices recommend you wear a hairnet, gloves and a mask. We also recommend a clean apron and workspace.
Place silicone on cookie sheet to give it stability should the mold need to be moved.
Cut 20 ounces of Aloe & Olive Soap Base into small chunks.
Place soap chunks in a large microwave-safe measuring cup and set aside.
To a small beaker, add 0.5 oz. of Yuzu Fragrance Oil.
Add 0.25 oz. of Vanilla Color Stabilizer to the fragrance. Mix well and let sit for 2 minutes.
Place soap into a microwave and heat in thirty-second increments until completely melted. Remove and stir to be sure all pieces have melted.
Pour fragrance mixture into the soap and mix well. Pour into mold cavities. Spritz the top of the soap with rubbing alcohol to pop any bubbles that may have formed. Allow soap to harden.
Unmold from mold and wrap soap in plastic wrap to prevent glycerin dew. You can also use shrink-wrap if you prefer.
Label product accordingly.
To Use: Lather onto wet skin and rinse with warm water.
Ingredient Label:
Sorbitol, Propylene Glycol, Sodium Laureth Sulfate, Stearic Acid, Myristic Acid, Water, Sodium Hydroxide, Lauric Acid, Aloe Vera, Olive Oil, Yellow 5, Green 3, Fragrance.