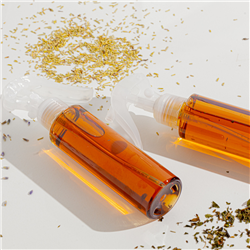 (Enlarge Image)
NOTE: If you are making these products for sale, good manufacturing practices recommend you wear a hairnet, gloves and a mask. We also recommend a clean apron and workspace.
In a 32 oz Glass Measuring Cup, weigh 32 oz distilled water. Heat in microwave
To distilled water, add 1 oz of Rose Water Essential Hydrosol, 0.5 oz Chamomile Extract, and 1 oz Preservative – Water Soluble + PF. Mix well.
To water mixture, add 1 tbsp each of: Lavender Buds, Peppermint, Rosemary, and Sage.
Cover mixture with cling wrap and let sit in cool, dark room for up to 3 weeks.
Using fine mesh strainer, filter mixture into second glass measuring cup.
Pour 3.7 oz of mixture into each plastic bottle. Secure trimmed spray tops on bottles.
Label product accordingly.
To use:
Spray rinse on wet hair and massage scalp for 2-3 minutes. Rinse out or leave in for hair that smells fresh
Ingredient Label:
Lavender Buds, Peppermint, Rosemary, Rose Water Essential Hydrosol, Sage, Preservative, Chamomile Extract