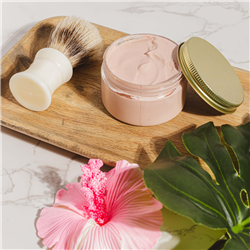 (Enlarge Image)
Directions:
Add 3.35 oz Aloe Vera Oil, 1.20 oz Cetyl Alcohol Flakes, and 0.90 oz BTMS 50 to a large, microwave-safe bowl. Microwave until waxes are melted.
Add 17.45 oz Distilled Water to a large, microwave-safe measuring cup. Microwave for 2 minutes. Mix in 0.50 oz Hibiscus Extract.
Pour water into oil/wax mixture and mix using a stick blender. Blend until product thickens and has a lotion-like consistency. If product is too thin, refrigerate to cool and thicken.
Slowly mix in 7.50 oz White Kaolin Clay and 0.50 oz Rose Kaolin Clay. Mix by hand first, then with blender until well incorporated.
Add 0.25 oz Preservative and mix well. Product should have a nice, creamy appearance.
Let product cool completely and thicken before filling jars.
Fill jars evenly.
If necessary, wipe down jars before applying lids.
Label accordingly.
To use:
Apply mask to face avoiding eyes and mouth. Leave on for 10-15 minutes until mask has dried. Rinse off with warm water and pat dry.
Ingredient Label:
Water, Kaolin, Mineral Oil, Coconut Oil, Aloe Vera, Cetyl Alcohol, BTMS-50, Glycerin, Hibiscus Extract, Phenoxyethanol, Caprylyl Glycol, Sorbic Acid.