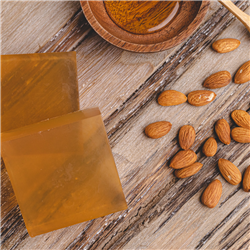 (Enlarge Image)
NOTE: If you are making these products for sale, good manufacturing practices recommend you wear a hairnet, gloves and a mask. We also recommend a clean apron and workspace.
Cut 26 oz. Premium Honey MP Soap Base into small chunks. Place chunks into microwave-safe measuring cup and heat in microwave in thirty-second intervals until melted.
Add 0.50 oz. of Honey Almond EO & FO Blend to the melted soap. Mix well.
Place silicone mold on cookie sheet. Pour the soap into four of the soap mold cavities.
Spritz the top of the soap with rubbing alcohol to pop any bubbles that may have formed. Let harden.
Unmold and wrap the soap in plastic wrap to prevent glycerin dew. You can also use shrink-wrap if you prefer.
Label product accordingly.
To Use: Lather onto wet skin and rinse with warm water.
Ingredient Label:
Sorbitol, Propylene Glycol, Sodium Laureth Sulfate, Stearic Acid, Water, Sodium Hydroxide, Myristic Acid, Lauric Acid, Honey, Fragrance.