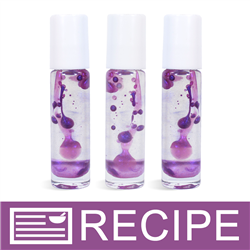 (Enlarge Image)
NOTE: If you are making these products for sale, good manufacturing practices recommend you wear a hairnet, gloves and a mask. We also recommend a clean apron and workspace.
Add Castor Oil and MCT to a measuring cup and stir well.
Fill 12 bottles to 0.27 oz. by weight. (For easier filling, use plastic beaker to fill.)
Mix .6 oz of Glycerin with 2 microscoops of NuTone Navy Mica Powder. Mix .6oz of Glycerin with 2 scoops of NuTone Magenta Mica Powder and then mix .6oz of Glycerin with 2 scoops of Nutone Purple Mica Powder.
Fill a 3 droppers, one with each color and drop into the oil filled roller bottles, 0.5 to 1 ml for each bottle. If using 2 or 3 colors in each bottle they will merge together after a bit.
Flavor Oil will break down the Glycerin color balls.
Press reducer into bottle, then press plastic ball into reducer. Twist caps on bottles.
Label product accordingly.
To Use
: Apply to lips to moisturize.
Ingredient Label:
Castor Oil, MCT, Glycerin, Fluorphlogopite, Titanium Dioxide,Tin Dioxide,Manganese Violet, Iron Oxide.