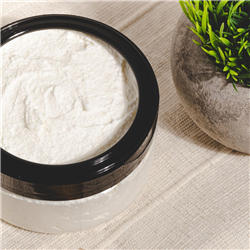 (Enlarge Image)
NOTE: If you are making these products for sale, good manufacturing practices recommend you wear a hairnet, gloves and a mask. We also recommend a clean apron, workspace and sanitized equipment.
Empty Mango Butter into large mixing bowl. Microwave for 30 seconds to 1.5 minutes to soften the mango butter, do not melt all the way.
With a spoon, flatten out any larger pieces so they are softer and easier to whip.
Add Horsetail Butter and Camelina Oil to the bowl.
Using hand mixer begin to whip mango butter and oil. Continue until product starts to become fluffy.
Add Tapioca Starch and blend in. For less greasy feel, add more tapioca starch.
Add fragrance and Vitamin E, continue to whip for about 5 minutes until product becomes fluffy and almost double in size.
Fill each jar to 4 oz. by weight and apply lids.
Label product accordingly.
To Use: Apply to skin as needed.
Ingredient Label:
Mango Butter, Horsetail Butter, Camelina Oil, Tapioca Starch, Vitamin E, Fragrance.