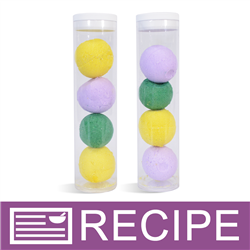 (Enlarge Image)
NOTE:
If you are making these products for sale, good manufacturing practices recommend you wear a hairnet and latex gloves. We also recommend a clean apron and workspace.
To mixing bowl, add 4.65 oz. baking soda, 2 oz citric acid, .75 oz lathanol, and .75 oz bubble cake hardener and mix well.
In a small bowl, add 2 drops of EZ color Berry Blue and 1 drop of EZ color Golden Yellow to make the green colorant and mix well.
Combine .1 oz shea 50, .1 oz fragrance, .1 oz polysorbate 80, and .2 oz cocamidopropyl betaine. Add color mix to wet ingredients.
Mix wet ingredients to the dry ingredients and mix well with a whisk or hands.
Generously scoop the mixture into the scooper and squeeze it closed. Push in the holes on the top and bottom of the scooper. Hold the scooper closed with one hand and with the other hand tap all sides of the scooper with a metal spoon to help release the suction between the fizzy and the scooper. Push in the top hole while you open the scooper until the fizzy has released. Continue to open the scooper and roll the fizzy out onto your hand.
Place the molded fizzies onto bubble wrap and allow fizzies to sit for 1-3 days until rock hard.
Repeat steps 1-6 using 1- 2 drops of EZ color yellow and then 1/4 tsp of NuTone purple mica.
Place 4 assorted bubble bath beads in the tube and cap.
Label accordingly.
Ingredient Label:
Baking Soda, Citric Acid, Sodium Lauryl Sulfoacetate, Potassium Bitartrate, PEG-50 Shea Butter, Fragrance, Cocamidopropyl Betaine, Castor Oil, Yellow 5 Lake, Blue 1 Lake, Fluorphlogopite, Titanium Dioxide,Tin Dioxide,Manganese Violet.