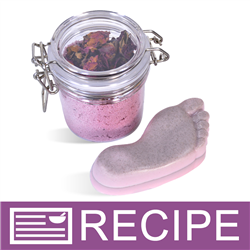 (Enlarge Image)
NOTE:
If you are making these products for sale, good manufacturing practices recommend you wear a hairnet, glove and a mask. We also recommend a clean apron and workspace.
Pedi Soak:
To large bowl, add citric acid, baking soda, epsom salt, pink sea salt and pink petal powder. Use a wire whisk to combine the ingredients.
In a small bowl, add menthol crystals, using a spoon or pestle crush crystals and add to the large bowl and whisk.
Add MCT and .5 oz. of fragrance to large bowl of dry ingredient and whisk together.
Spread mixture over a cookie sheet and let dry overnight.
Fill 6 bail jars with product and place rose petal buds on top. Package with a .75 ounce natural scoop.
Scubby Soap:
Add 15 ounces of melt and pour soap to a microwave safe bowl, heat in 30 second increments until melted.
Add 2 micro scoops of color and .5 ounces of fragrance to soap and mix well.
Add 1 ounce of pumice powder to the soap and stir. The soap will turn a bit grey but this will settle to the bottom of the mold when poured.
Pour 2.5 ounces of soap into each cavity, stirring between each pour, spritz with alcohol and let harden.
Remelt remaining soap, when soap is 130 degrees, spritz soaps in the mold with alcohol and pour the remaing soap into each cavity. Spritz with alcohol and let harden.
Remove soaps from the mold and repeat steps 1-5 to make another 3 soaps.
Wrap in plastic wrap and label accordingly.
Directions for us: Add 1-3 scoops of pedi soak to a warm foot bath and soak as long as desired. Then, use scrubby foot soap to exfoliate. Rinse and dry for soft, pampered feet.
Package Pedi Soak and Scrubby Soap together in a cello bag, tie with ribbon and label accordingly.
Ingredient Label:
Pedi Soak: Baking Soda, Citric Acid, Epsom Salt, Himalayan Sea Salt, Medium Chain Triglycerides, Menthol, Rose Petal Powder, Fragrance. Soap: Sorbitol, Propylene Glycol, Sodium Laureth Sulfate, Stearic Acid, Water, Sodium Hydroxide, Myristic Acid, Lauric Acid, Shea Butter, Titanium Dioxide, Pumice, Fragrance, Mica, Titanium Dioxide, Iron Oxide, Silica.