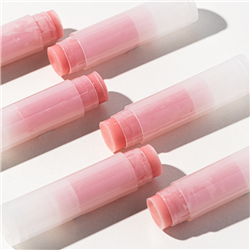 (Enlarge Image)
NOTE: If you are making these products for sale, good manufacturing practices recommend you wear a hairnet, gloves and a mask. We also recommend a clean apron and workspace.
Lay filling tray upside down on counter. Insert lip tubes upside down into the tray. Turn right side up when all tubes have been placed in the tray. If desired, place tray on cookie sheet.
Spoon the Lip Balm Base into a microwaveable measuring cup with pouring spout.
Heat in the microwave in thirty-second increments until completely melted.
Add the pink mica powder* into the melted base and stir well.
When the temperature is below 140º F, add the Pink Grapefruit Essential Oil and mix well.
When the lip balm has cooled to 130º F, carefully pour the melted liquid into each tube. The tray will catch any overpours. Let harden.
If any sink holes appeared, melt any leftover balm and pour over the tops to smooth them out.
Scrape the excess lip balm from the tray with a metal spatula. Place in an airtight container and save for a future project.
Remove the lip balm tubes from the tray, and add the cap.
Label product accordingly.
To Use: Apply to lips as desired.
* On 9/18/19, Neon Coral and Cocktails Powder was changed to Fairytale Pink Mica Powder due to discontinued product.
Ingredient Label:
Castor Oil, Olive Oil, Beeswax, Carnauba Wax, Soybean Oil, Candelilla Wax, Essential Oil, Mica, Titanium Dioxide, Tin Oxide, Iron Oxide.