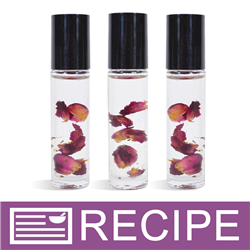 (Enlarge Image)
NOTE: If you are making these products for sale, good manufacturing practices recommend you wear a hairnet, gloves and a mask. We also recommend a clean apron and workspace.
Add Jojoba Oil and Fragrance Oil to measuring cup and mix well.
Break apart some rose buds and put in the glass bottles.
Fill each bottle to 0.30 oz. by weight. (For easier filling, use plastic beaker to fill.)
Press reducer into bottle, then press plastic ball into reducer. Twist caps on bottles.
Label product accordingly.
To Use
: Apply to neck and wrists.
Ingredient Label:
Jojoba Oil, Fragrance, Rose Petals