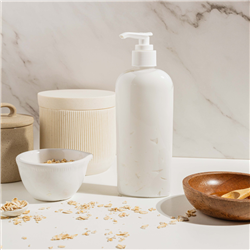 (Enlarge Image)
NOTE: If you are making these products for sale, good manufacturing practices recommend you wear a hairnet, gloves and a mask. We also recommend a clean apron and workspace.
To a plastic beaker, add 7 ml of Oatmeal, Milk & Honey Fragrance Oil with 3.5 ml of Vanilla Color Stabilizer. Mix well and let sit for at least 2 minutes.
Spoon 16 oz. of Satin & Silk Lotion into a microwaveable measuring cup with pouring spout.
Heat the lotion in the microwave in thirty-second increments until the base is 130º F. Be sure not to overheat! Heating above 140º F can inactivate the preservative in the lotion.
Add the fragrance mixture to the lotion and blend in.
Place a plastic bottle on a scale and hit the TARE button to zero out the scale.
Pour eight ounces of lotion into the bottle. Pour the remaining lotion into the other bottle. If lotion is too thick to pour, put lotion into a zip close bag. Cut the tip off of one corner and squeeze lotion into the bottle.
Allow lotion to cool completely in the bottles.
Cut the tubes on the Saddle Pump Tops to fit the length of the bottles.
Twist on the pump tops to finish the product.
If you plan to sell or give this product to others, we recommend proper labeling.
To Use: Pump onto hands and massage into skin as desired.
Ingredient Label:
Water, Glycerol Sterarate, Isopropyl Myristate, Cetearyl Alcohol, Ceteareth 20, Caprylic/Capric Glycerides, Dimethicone, Stearyl Alcohol, Soybean Oil, Shea Butter, Sunflower Oil, Hydrolyzed Silk, Aloe Barbadensis, Disodium EDTA, Diazolidinyl Urea, Benzophenone 4, Iodopropynyl Butylcarbamate, Triethanolamine, Fragrance