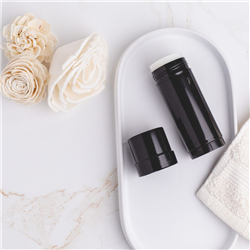 (Enlarge Image)
NOTE: If you are making these products for sale, good manufacturing practices recommend you wear a hairnet, gloves and a mask. We also recommend a clean apron and workspace.
Directions:
To metal pouring pot, add babassu oil, beeswax and aloe vera oil.
Heat on low until beeswax has completely melted.
Add cocoa butter and continue to heat until melted through. Remove from burner.
Add shea butter and chamomile butter. Stir and let heat from oil/wax mixture melt the butters. If necessary, place back on heat source for a few minutes.
Add Vitamin E and fragrance oil. Stir to mix.
Fill each tube to 2 oz. by weight.
Let cool completely and twist caps on tubes.
Label product accordingly.
To Use:
Rub solid lotion into skin as needed.
Ingredient Label:
Shea Butter, Babassu Oil, Beeswax, Cocoa Butter, Chamomile Butter, Vitamin E, Fragrance.