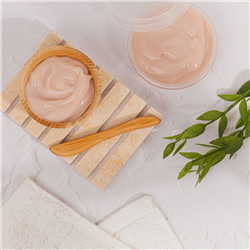 (Enlarge Image)
NOTE: If you are making these products for sale, good manufacturing practices recommend you wear a hairnet, gloves and a mask. We also recommend a clean apron, workspace and sanitized equipment.
To a large microwave-safe measuring cup, add 16 oz. Basic Lotion Base. Heat in microwave for 60 seconds. Stir.
Add 0.50 oz. Elderberry Extract and 10 drops of Sandalwood EO FO blend, 10 drops of Lavender 30/32 and 3 drops of Orange EO. Stir well to incorporate.
Fill 5 jars evenly with lotion. Once completely cooled, apply the lids.
Label product accordingly.
To Use: Apply lotion to skin as desired.
Ingredient Label:
Water, Cetearyl Alcohol, Glyceryl Stearate, Polysorbate-60, Stearyl Alcohol, Sunflower Oil, Allantoin, Propylene Glycol, Isopropyl Palmitate, Petrolatum, Diazolidinyl Urea, Methylparaben, Propylparaben, BHT, Carbomer, Benzophenone-4, Stearic Acid, Elderberry Extract, Fragrance, Essential Oils.