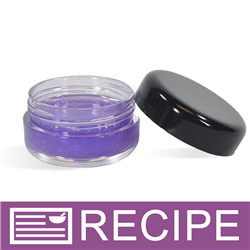 (Enlarge Image)
NOTE: If you are making these products for sale, good manufacturing practices recommend you wear a hairnet, gloves and a mask. We also recommend a clean apron, workspace and sanitized equipment.
Into a glass meauring cup, add 4 oz. of Versagel. Heat in microwave for 2.5 minutes on 50% power.
Add 1.0 oz. MCT and mix into warm gel until gel becomes smooth. This helps to make the gel more fluid and not as sticky.
Add 3-4 micro scoops of Purple Galaxy Mica Powder and 4 ml Acai & Blueberry Flavor Oil. Mix until smooth.
Using a sandwich-sized storage bag, place inside a cup so bag can stand upright. Place the gel into the bag using a spatula or spoon.
Cut a small corner off the bag and fill each lip pot to 0.25 oz. each. This should fill 18 jars. Place lids on jars. If desired, apply 65" x 55" shrink wrap bands so pots are tamper-proof. Simply place band around the jar and use a hair dryer or heat gun on low heat to shrink band around the jar.
Label product first if using shrink wrap.
To Use: Apply gel to lips as desired.
Ingredient Label:
Hydrogenated Polyisobutene, Ethylene/Propylene/Styrene Copolymer, Butylene/Ethylene/Styrene Copolymer, Flavor, Mica, Titanium Dioxide, Tin Oxide, Iron Oxide.