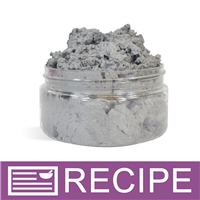 (Enlarge Image)
NOTE: If you are making these products for sale, good manufacturing practices recommend you wear a hairnet, gloves and a mask. We also recommend a clean apron and workspace.
In the stand mixer bowl, whip foaming bath whip for 5 minutes with a kitchen-aid or stand mixer set to medium speed. We recommend using the spatula attachment for whipping.
Slowly add Bentonite Clay and whip on medium speed for 1 min. Slowly add Sea Clay and whip for 1 min. Turn off the mixer and using a spatula, fold approximately one-third of the Activated Charcoal into the whip. Repeat until the full amount is added.
Add Aloe Vera Gel to the mixture. At this time optional tea tree essential oil can also be added. Return the bowl to the mixer and cover with a towel to prevent airborne powder from landing on the work surface. Whip the product on medium speed for 2 minutes.
Do not over whip product or the mixture will not remain fluffy.
Place empty jar on scale and tare to zero. Fill each jar to 2.5 ounces. Any remaining product can be split evenly between the jars.
Label product accordingly.
To Use:
Avoiding the eyes, gently massage product onto face. Allow a light coating of the face mask to remain on the skin for 5-10 minutes. When the mask is dry, gently remove with water and use a towel to pat the skin dry.
Warning:
Keep out of eyes. Do not ingest. Care should be taken to avoid contact with light colored towels, clothing and washcloths as charcoal may stain some fabrics.
Ingredient Label:
Glycerin, Water, Aloe Barbadensis Leaf Juice, Sodium Cocoyl Isethionate, Sorbitol, Propylene Glycol, Disodium Lauryl Sulfosuccinate, Stearic Acid, Carbomer, Sodium Chloride, Bentonite Clay, Sea Clay, Activated Charcoal, Diazolidinyl Urea (and) Iodopropynyl Butylcarbamate, Triethanolamine.