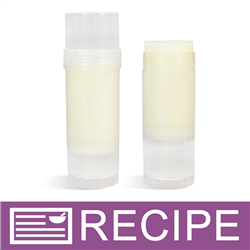 (Enlarge Image)
NOTE: If you are making these products for sale, good manufacturing practices recommend you wear a hairnet, gloves and a mask. We also recommend a clean apron, workspace and sanitized equipment.
Combine 4 oz. jojoba oil, 4 oz. shea butter and 4 oz. beeswax and place in a double boiler or a metal pan.
Place on stove top and heat on low until beeswax has completely melted. Stir to completely blend in any small pieces of unmelted product.
Remove from heat. Add Vitamin E and Lemon Eucalyptus Essential Oil. Stir to incorporate.
Let product cool to 145°F. Pour melted liquid into lotion bar tubes.
Let fully harden before applying cap.
Label product accordingly.
To Use: Roll on any uncovered skin before going outdoors. Keep away from eyes and do not use on children under 2 years of age.
Ingredient Label:
Jojoba Oil, Shea Butter, Beeswax, Vitamin E, Essential Oil.