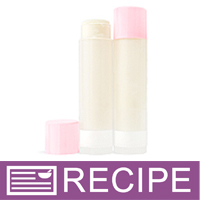 (Enlarge Image)
NOTE: If you are making these products for sale, good manufacturing practices recommend you wear a hairnet, gloves and a mask. We also recommend a clean apron and workspace.
To a metal pot or double boiler, add Shea Butter, Coconut Oil, Candellila Wax, Beeswax and Cocoa Butter. Heat on low over stovetop or double boiler until melted.
Add Jojoba Oil, Castor Oil, Vitamin E, and Pink Grapefruit EO. Stir into melted mixture
Pour mixture into a plastic beaker. Let cool to 140°F then fill lip tubes. If product begins to harden, heat in microwave for 10-15 seconds to liquify.
Allow to harden and come to room temperature before applying caps.
Label product accordingly.
To Use: Apply to lips as needed.
Ingredient Label:
Jojoba Oil, Shea Butter, Cocoa Butter, Castor Oil, Beeswax, Candelilla Wax, Coconut Oil, Pink Grapefruit Essential Oil, Vitamin E.