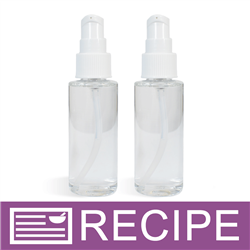 (Enlarge Image)
NOTE: If you are making these products for sale, good manufacturing practices recommend you wear a hairnet, gloves and a mask. We also recommend a clean apron and workspace
Add 12 oz. MCT Liquid to glass measuring cup.
Add 54 drops Lavender Essential Oil, 42 drops Orange Essential Oil, 30 drops Cedarwood Essential Oil and 18 drops Cananga Essential Oil.
Mix well.
Fill 6 bottles with 2 oz. by weight.
Repeat to make six more bottles.
Label accordingly.
Dilution:
This is a 2% blend. For children between the ages of 5-10, cut the essential oils in half.
To Use:
After shower or bath, dry yourself off and apply this blend generously to your body to nourish your skin and begin to relax you for a good night's sleep.
Ingredient Label:
Medium Chain Triglycerides, Lavender Essential Oil, Orange Essential Oil, Cedarwood Essential Oil, Cananga Essential Oil.