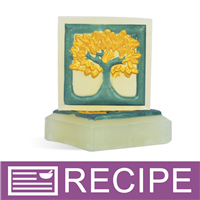 (Enlarge Image)
NOTE: If you are making these products for sale, good manufacturing practices recommend you wear a hairnet, gloves and a mask. We also recommend a clean apron and workspace.
In a plastic beaker, melt 1 oz. of soap with 0.25 oz. Dark Gold Shimmer Soap Color Bar. Stir once melted.
Place silicone mold on jelly roll pan or cookie sheet. This gives stability if the mold needs to be moved.
Spritz inside of each cavity with rubbing alcohol. Using a plastic dropper, add color to the leaves on each tree. It works best if the soap is a little hotter and thinner to pipe. Between piping, place dropper into a cup of hot water to keep soap flowing freely.
Spritz soap with rubbing alcohol and let soap harden. To quicken the process, place mold into freezer for about 10 minutes.
In another plastic beaker, melt 1 oz. soap with 0.25 oz. Evergreen Green Mica Soap Color Bar.
Using a clean dropper, apply green color to branches, trunk and border. Spritz after each tree is filled to pop any air bubbles that formed.
Let soap completely harden. Place in freezer, if necessary, to speed up process.
Cut up remainder of Australian Tea Tree soap and place in microwave-safe measuring cup. Heat in microwave until completely melted.
Add 9.5 ml Tea Tree Essential Oil and mix into melted soap.
Spritz soap in mold generously with alcohol. Once melted soap has cooled to 125°, pour into mold.
Spritz the top of soap, again, with alcohol to release any surface air bubbles. Let harden.
Remove soap from mold and cut on scored lines.
Package as desired.
Label product accordingly.
To Use: Lather onto wet skin and rinse with warm water.
Ingredient Label:
Sorbitol, Coconut Oil, Propylene Glycol, Stearic Acid, Water, Sodium Hydroxide, Glycerin, Tea Tree Essential Oil, Bamboo Extract, Aloe Vera, Chromium Oxide, Sodium Cocoate, Sodium Stearate, Fluorphlogopite, Mica, Titanium Dioxide, Iron Oxide.