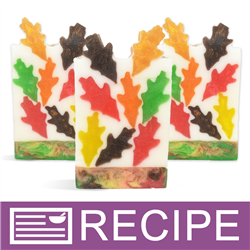 (Enlarge Image)
NOTE: If you are making these products for sale, good manufacturing practices recommend you wear a hairnet, gloves and a mask. We also recommend a clean apron and workspace.
Securely fasten bottom and sides of the Oak Leaf Mini Column Silicone Mold. Place into a small box or cup so it will remain upright once the soap has been poured.
Decide on the colors used for the leaves. We made five different colored leaves and then repeated three colors for a total of eight leaves.
To a plastic beaker, add 2.8 oz. of clear soap cut into smaller chunks. Place 0.10 oz. of first color block into the cup. Heat briefly in microwave just until melted.
Add one micro scoop of Gold Coast Holiday mica powder along with 3 ml of fragrance. Stir until well blended.
When soap has cooled to 125-130°F, stir and slowly pour into column mold. Spritz the top with rubbing alcohol and let soap harden. Once soap has set up, unhinge the mold and remove soap. Trim any excess from the sides and bottom with a vegetable peeler or a soap planer/beveler.
Repeat the above steps until all the soap leaves have been made. Be sure to wrap any finished leaves in plastic wrap until ready to use.
Place loaf mold on cookie sheet for stability.
Using five plastic beakers, add 1.5 oz. clear soap to four beakers and 1.5 oz. of goat milk to the last beaker. To the clear soap we added .05 oz. of green, brown, red and orange color block. To the goat milk, we added .05 oz. of yellow color block.
Heat each beaker in the microwave until melted. Stir to blend in color. When soap has cooled to between 125-130°F, pour about a third of soap from two beakers into the bottom of the mold. It is all right for them to mix together. Pour two more and then the last. Continue pouring until all the soap has been poured and swirled into the bottom. Let harden.
Position six of the column leaves into the mold as desired for your design. Remove and set aside.
To large microwave-safe measuring cup, add 20 oz. cut up goat milk soap. Heat in microwave until melted. Add 0.60 oz. fragrance and 2 micro scoops of gold mica powder. Stir until well blended.
Let soap cool to 125-130°F. Spritz soap in mold generously with rubbing alcohol. Pour enough soap into mold to cover bottom and slightly more. Spritz three leaves generously with alcohol. Place leaves into mold and carefully pour goat milk soap to surround the leaves. If leaves are close to the side of mold, be sure soap is poured between the leaf and side of mold.
Pour a little more soap, spritz three more leaves and place into mold. Pour just enough soap to cover leaves and let harden.
Spritz soap well in mold and position last two leaves so they are somewhat submerged into mold and the tops are sticking out. Spritz leaves well and pour remaining soap to fill the rest of the mold. Let soap completely harden.
Remove soap from mold. Slice into approximately 1 inch bars.
Wrap with airtight plastic wrap.
Label product accordingly.
To Use: Lather onto wet skin and rinse with warm water.
Ingredient Label:
Sorbitol, Propylene Glycol, Sodium Laureth Sulfate, Stearic Acid, Water, Sodium Hydroxide, Myristic Acid, Lauric Acid, Sodium Cocoyl Isethionate, Goat Milk, Yellow 5, Fluorphlogopite, Titanium Dioxide, Mica, Chromium Oxide Green, Tin Dioxide, Iron Oxide.