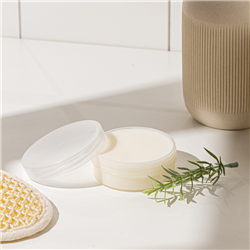 (Enlarge Image)
NOTE: If you are making these products for sale, good manufacturing practices recommend you wear a hairnet, gloves and a mask. We also recommend a clean apron and workspace.
Add 20.79 oz Shea Butter, 1.35 oz Aloe Butter Blend, 3.51 oz Sweet Almond Oil, and 0.81 oz Beeswax to a double boiler. Heat, stirring until butters and wax are melted.
Stir in 0.27 oz Vitamin E.
If desired, stir in up to 1% (0.27 oz) Fragrance Oil.
Allow mixture to cool to around 100° F before pouring. Stir occasionally as it cools.
Once cool, fill jars evenly. Do not apply lids.
Allow jars to set up before placing in refrigerator.
Once you can move the jars without spilling, place in refrigerator to cool fully (around 2 hours).
Once cool and hardened, apply lids and label accordingly.
To Use:
Massage onto dry tattoos (or skin) as desired.
Ingredient Label:
Shea Butter, Sweet Almond Oil, Coconut Oil and Aloe Extract, Beeswax, Vitamin E, (Fragrance, if added)